Samuel is an Indonesian economics graduate from National Taiwan University, fluent in Chinese, Japanese and Indonesian. He previously worked for Taiwanese financial institutions, experienced in financial institution corporate strategy and corporate banking.
---
Taiwan: High-Tech Manufacturing Base with High-Level Talents
The geopolitical tension between the US and China has brought forth renewed interest into other manufacturing countries such as Vietnam and Thailand. However, Taiwan is also one of the beneficiaries of this shift, as the ongoing trade war becomes a trigger for a steady flow of funds being repatriated from Mainland China back into Taiwan.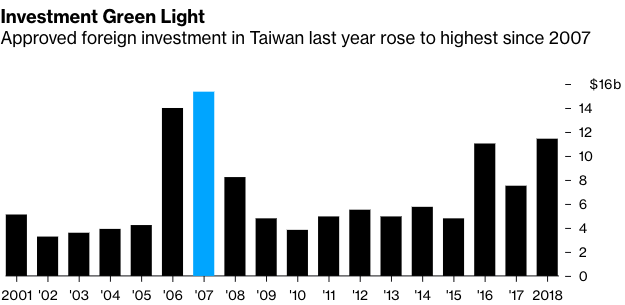 Many of the companies shifting production back are tech hardware companies such as Quanta Computer, Gigabyte Technology, and Inventec, who have found rising labor costs in Mainland China as well as the increasingly hostile political environment to be other factors in the move.
This shift in hardware tech manufacturing is also induced by the government's "Invest Taiwan" campaign, where the program has attracted more than USD 700M back. The government has also promoted Taiwan as a hub for high-tech manufacturing and high-value services, initiating the "5+N Innovative Industries" in 2018 to encourage investments in key industries. Amongst the supported programs encourage companies to develop an Asian Silicon Valley, create a smart nation through the development of 5G, IoT devices and smart machinery, as well as focusing on a sustainable economy and green energy.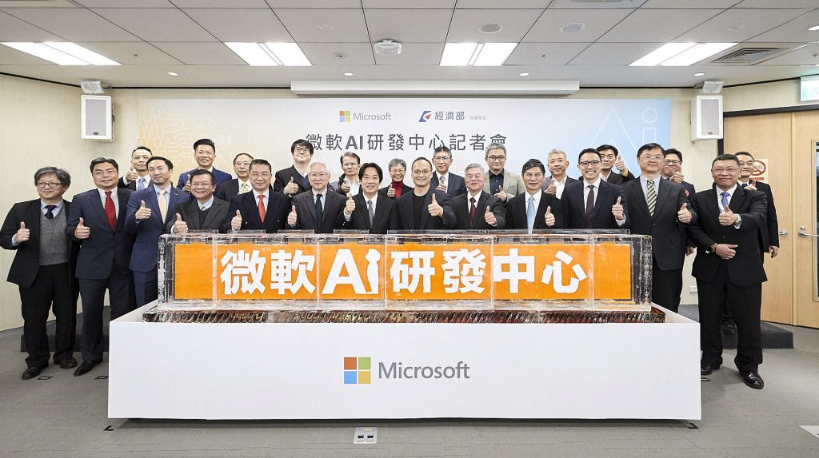 Besides the returning Taiwanese companies, many multinational firms have set up shop in Taiwan, creating competition for tech talents in Taiwan. HP, Sony, IBM and Intel have set up their R&D centers in Taiwan, while Amazon's AWS set up an AI research center, around the same time that Microsoft announced that they will be doing the same. This year, Microsoft have announced an expansion, while Google also similarly moved to expand their existing R&D team in Taiwan, after they acqui-hired the HTC design team for USD 1.1B back in 2018, making Taipei their biggest R&D center in Asia Pacific.
The high-tech hardware and software companies will foster even more technological development in the broader economy. In 2018, according to statistics from Taiwan's Ministry of Education, there were more than 20,000 graduating IT students, with many also honing their skills in startups.
Government-Driven Digital Economy Transformation
The government also supports the shift to a more digital, innovative economy, as the Executive Yuan have authorized setting up science parks in Hsinchu, Taichung and Kaohsiung in order to attract foreign investments in high-tech industries. Taiwan is also currently ranked the most open country in the world, as more than 27,000 data entries from various government bodies have been made transparent to the public. This initiative is led by Taiwan's first Digital Minister, Audrey Tang.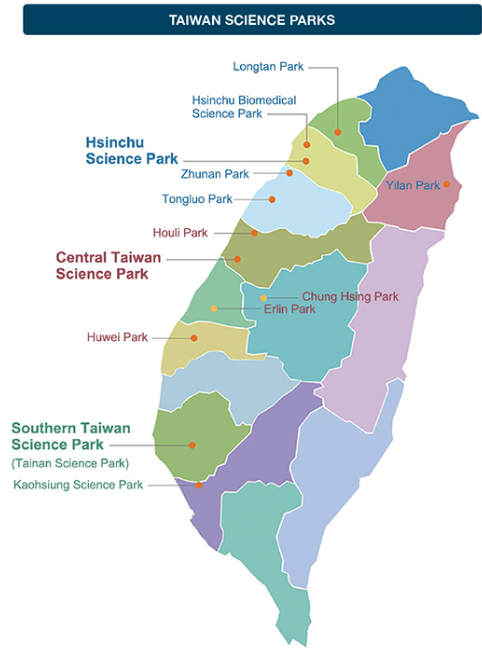 Accordingly, Taiwan's Minister of Science and Technology has advocated Taiwan's digital transformation through establishing new entities that support the local startup ecosystem such as the university-affiliated accelerator NTU Garage and Taiwan Tech Arena, a launchpad for Taiwanese and international startups. He thinks that Taiwan must be able to integrate its hardware manufacturing prowess with software, as software that is based on hardware and IoT devices can bring a lot more value to the industry.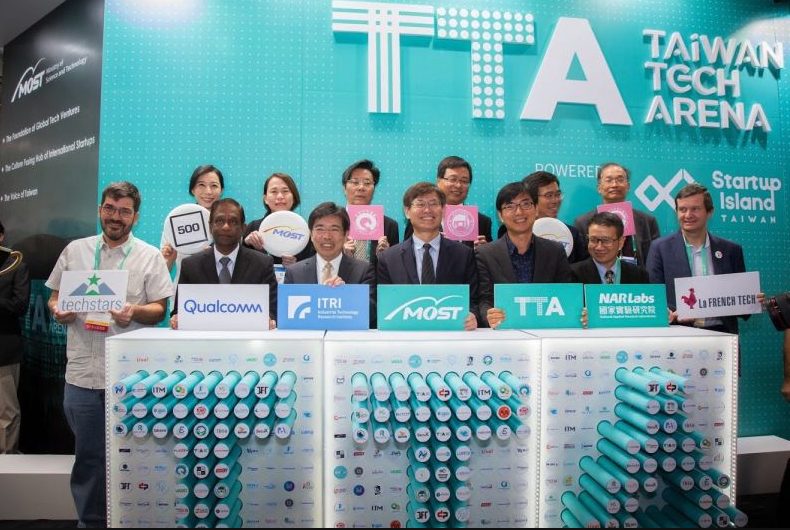 Other government bodies such as the Ministry of Economic Affairs have also directed its Small and Medium Enterprise Administration to focus more on the digital transformation of Taiwanese SMEs by easing regulations to give more tax incentives.
Besides encouraging innovative industries, the government also recognizes the importance of expanding internationally into the ASEAN, South Asia and Australia/NZ regions through the New Southbound Policy, supporting startups and companies to expand outwards while welcoming international companies coming inbound into Taiwan through loosening regulations to attract foreign professionals and entrepreneurs.
The National Development Fund (NDF) have also launched Taiwan Startup Stadium in 2015 to support the exchange between Taiwanese startup ecosystem with other international counterparts, organizing international events in Taiwan such as #AsiaRocks to strengthen ties regionally, with startup programs from Hong Kong, Japan, Korea, Indonesia, Australia, NZ and Thailand joining the event. They have also launched Startup Terrace to support local startups even more.
This ties back to Taiwan's government enthusiasm for the country's digital transformation, as Taiwan is looking to foster at least one unicorn by 2020 and 3 unicorns by 2024. In order to do so, they are incentivizing the local ecosystem by funding startups in their infancy, facilitating their growth, and creating feasible exit routes for startup investors. For starters, the National Development Council has earmarked NTD 1B (USD 30M), which was recently increased to NTD 2B (USD 65M) in order to support the local startup ecosystem through the Business Angel Investment Program, by matching investments made by venture capitalists and angel investors, thereby reducing investment risks.
As of October 2019, Taiwan startups have raised around USD 65M, mostly for early-stage startups. The National Development Council announced on 26 December 2019 that the NDF have successfully invested in 2 local startups that have become unicorns: Appier and Gogoro. Furthermore, the Council has also spearheaded an initiative, rebranding Taiwan as a startup nation.
Perhaps as a testament to Taiwan's effort to modernize its economy through various channels, the World Economic Forum has listed Taiwan as one of the most innovative countries in the world, scoring highly on metrics such as macroeconomic stability, financial services, and innovation capability.
Private Market is Waking Up to Taiwan's Potential
Although many pillars of innovation are in place (infrastructure, technology adoption, and skilled labor), venture finance availability is still not as high as others, placing Taiwan as the 24th ranked country in this metric. Although the government has tried to improve by providing venture funds through the NDF, the private sector has been trying to catch up, as venture finance availability has improved compared to last year.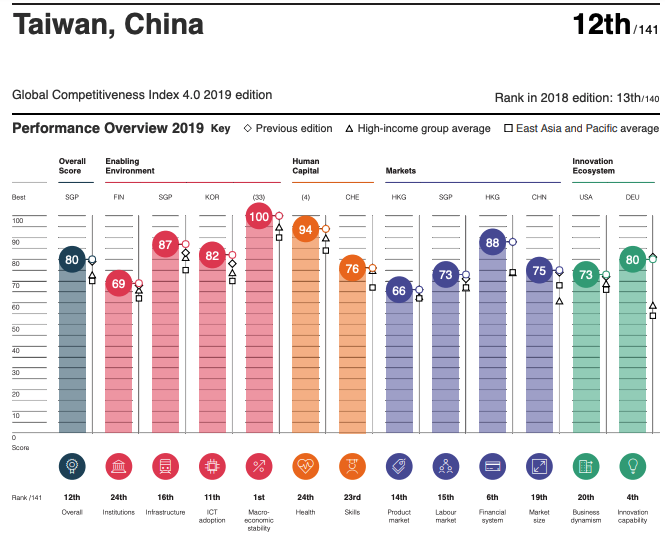 As a new local VC firm, Cornerstone Ventures have been trying to support the local startup ecosystem not only by providing venture financing to early startup teams, but also the necessary know-how to scale their businesses from 0 to 100. Cornerstone has also been trying to support the digitalization of the nation by supporting the local businesses of overseas startups (such as Shopback, FundPark), since we believe that further innovation will bloom from this business exchange.
As a prime example, Uber's innovative business inspired a local startup called TaxiGo, competing with Uber locally in Taiwan. In December 2019, LINE invested into the startup and rebranded the service as LINE Taxi, becoming an indispensable part of their ecosystem in Taiwan.
Taiwan has a huge potential for innovation, but it might be hard for overseas startups to land in Taiwan due to the localization that they need to do in order to enter the market successfully, as can be seen in the difference of consumer behavior compared to Southeast Asia.
However, the government has continually tried to be more friendly to new startups, while both traditional and newer venture capital firms have been trying to become more founder-friendly in the hope of creating a vibrant startup ecosystem that can change the whole economy.
---
Taiwan: An "Off the Beaten Path" Asian Market for Startups?
When startups think of the Asian market, Taiwan might not be the first market of choice. However, there are many factors that may lend support to new startups thinking of landing in Taiwan:
Taiwan's legacy high-tech manufacturing industry

High-quality talents

Startup-friendly government policies and initiatives

Stable country ripe for innovation

Increasingly active startup scene with more venture financing
Startups from Southeast Asia and even Japan are already making the jump to Taiwan market targeting e-commerce (Shopback, Carousell), telco (Circles.Life), fintech (AFTEE), games (Akatsuki), or even co-living spaces (Borderless House). That is in addition to the original rush of other international startups such as Uber, Foodpanda, or Deliveroo.
As a local VC, we are able to use our local resources to accelerate your business in Taiwan. If you are thinking of exploring the Taiwan market, feel free to contact us to smooth out your landing plan!