5 min read
---
Hi, I am Jonathan Hayashi. After graduating from University of Rochester with double degrees in Optical Engineering and Financial Economics, I worked in one of the top 3 investment banks in Japan, SMBC Nikko. Later on, I joined one of the largest VC firms in Japan, SBI, and took charge of growth stage investments in Blockchain, Fintech, and AI Sector. I joined Cornerstone Ventures in 2020.
---
Target audience of this article:
Startups,future entrepreneurs, and investors who have interest in crypto and blockchain.
Anyone who saw "DeFi" in recent news and wondered what it is.
What is DeFi:
The word DeFi, abbreviation of Decentralized Finance, can be referred to as a broad definition and a narrow definition.
In a broad context, DeFi can be any decentralized application that is related to financial service/product, or any protocol that supports these applications.
In a narrow context, DeFi is P2P lending on blockchain.
Some media also describes companies like Celsius Network and BlockFi as DeFi, but to the best of my knowledge, they conduct a centralized fintech business using crypto, which is great, but shouldn't be included in this category.
History of DeFi:
The community of DeFi movement was formed on Telegram in around 2017, and an annual event called DeFi Summit was held for the first time in 2018/10.
The first DeFi project was DAI by MakerDAO, launched in late 2017. (Details in next section.)
Some major DeFi projects and latest news:
MakerDao

a decentralized organization built on Ethereum to allow lending and borrowing of cryptocurrencies without the need for a middle man.
made up of a smart contract service that manages borrowing and lending, as well as two currencies: DAI and MKR to regulate the value of loans.
With the DAI, MakerDAO is the first attempt at creating a decentralised stablecoin based on pawned Ethers.

You put down ETH as collateral, and the system, not any centralized corporate or organization, issues DAI to you.
When the collateral of a loan drops below a certain point — meaning the price of ETH has dropped too far below the amount of DAI borrowed — the loan is liquidated. In other words, the ETH being used as collateral is sold off to repay the borrowed DAI plus penalties and fees.

MakerDao has raised $12M with equity from world-renowned venture capital firm Andreessen Horowitz and others. In September 2018, Andreessen Horowitz invested $15 million in MakerDAO to buy 6 percent of the total Maker (MKR) token supply. It was the first investment for the firm's $300 million a16z crypto fund.
In MakerDAO's Forum, there is ongoing discussion from April 2020 to include real-world asset like tokenized invoice and other fixed income as potential collateral. MKR was up 30% in June 2020 after MakerDAO community's vote in favor of introducing tokenized "real-world" assets as collateral for Dai loans.
In May 2020, MakerDao's community voted to include WBTC as acceptable collateral to open Maker Vaults in order to generate Dai, and also to include TUSD in June 2020. WBTC's market cap has increased 3 times in less than a month.
MakerDAO, along with Lightning Labs, Elliptic, and Ripio, is selected as one of 100 tech pioneers in June 2020 by the World Economic Forum. Bitfury was one of the blockchain startups on the WEF's list last year. Ripple was also recognized by the forum in 2015.
Total Value Locked: USD 494.7M (as of 2020/6/19)
Market Cap of MKR: USD 531.5M (as of 2020/6/19)
Compound

Launched in September 2018, Compound is an algorithmic money market protocol on Ethereum that lets users earn interest or borrow assets against collateral. 
Unlike MakerDao that only accepts ETH, BAT, WBTC, USDC and TUSD as collateral, Compound now supports BAT, DAI, SAI, ETH, REP, USDC, WBTC, and ZRX.

Many users use ETH on MakerDAO to borrow DAI, and use DAI as collateral to earn interest.

Unlike Tether Inc., Compound has been audited and formally verified.
Compound has raised $33M across Seed round and Series A, where Andreessen Horowitz was the lead investor in both round.
In February 2020, Compound announced it will consider issuing its' governance token COMP, and published the detailed distribution plan of COMP in May 2020.

On this Monday, June 15, COMP was launched. Within 24 hours, the market cap of this new token had exceeded that of MakerDao, which already existed for more than 3 years, and became the largest DeFi token by market cap.
By supplying other cryptocurrency as collateral, users can received newly issued COMP. Users can vote on governance topics with the COMP they have.

Total Value Locked (TVL): USD 340.1M (as of 2020/6/19)
Market Cap of COMP: USD 1,604M (as of 2020/6/19)
Dharma

With commercial launch in April 2019, Dharma started as an Ethereum-based fixed-interest fixed-duration peer-to-peer lending platform, competing with Compound.
Yet, it pivoted in late 2019 and adopted Compound's protocol to provide a variable interest rate savings account, aiming to become a crypto bank.
Dharma has raised fund from Y Combinator, Coinbase, Polychain, and Ripple.
                                                                          .

If you are interested in this topic, here are some other DeFi projects, protocols or applications, including DEX (Decentralized Exchange), that you can look into:
Total Value Locked in DeFi & Top 100 DeFi Tokens by Market Capitalization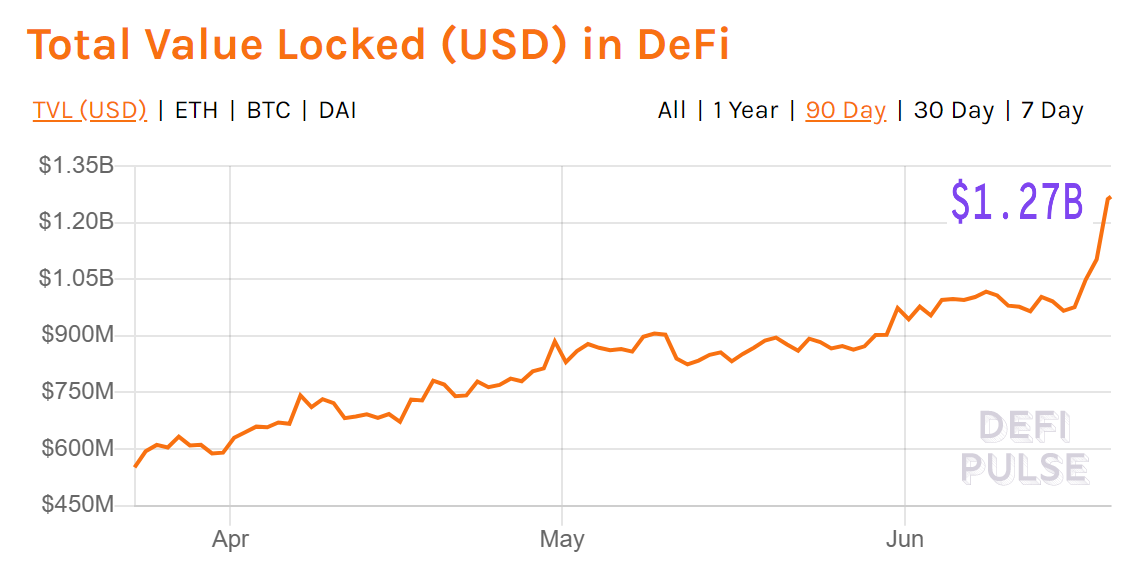 Source: https://defipulse.com/ (as of 2020/6/19)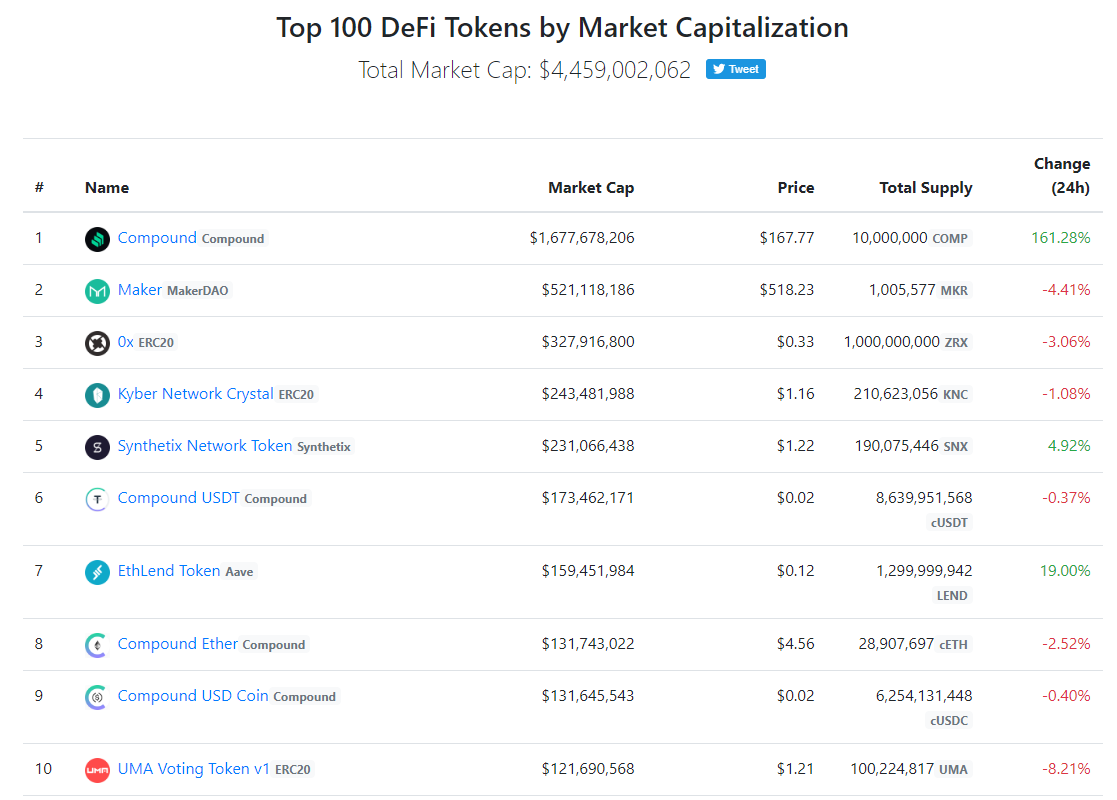 Source: https://defimarketcap.io/ (as of 2020/6/19)
Lastly
The bottleneck of mass adoption for DeFi might be a combination of the lack of trustworthy and correct knowledge about it, the lack of ways to spend the return, and the difficulty to estimate the actual return considering the high volatility.
Also, to be honest, unlike the traditional centralized system where the borrowers actually borrow money to create real-world value and repay with interest, the current DeFi system is able to generate return for lenders mostly because of the rather random appreciation of price of the cryptocurrencies.
Yet, just like there were lots of fraud and speculators when the system of corporation, stock market, and Internet just came out, I personally think this will only be a short phase, and DeFi will benefit human beings over a longer period of time.
---
The Future Is Unwritten.