Samuel is an Indonesian economics graduate from National Taiwan University, fluent in Chinese, Japanese and Indonesian. He previously worked for Taiwanese financial institutions, experienced in financial institution corporate strategy and corporate banking.
---
A General Introduction to Taiwan's Digital Economy
Taiwan, to many young Southeast Asians, will seem like a place that is the birthplace of bubble tea and fried chicken a-la Hot Star. To an older generation, a place where F4 and Jay Chou is from. Apart from the Chinese-speaking populace in Southeast Asia, the layperson in the region perhaps do not know much about Taiwan.
Despite the cultural pull that Taiwan has, tech startups in the ASEAN region do not really think of Taiwan as a possible market to expand to, mostly because they are simply not acquainted with Taiwan as a market.
To people who are a bit more well-versed about Taiwan economically, they might point out that it is a developed country but lagging in growth compared to South Korea, as recent GDP data shows Taiwan only growing 2~3% yearly.
Behind the facade, there are actually many more things to be more optimistic about in Taiwan, there is still a very significant market to be exploited, especially in the digital space. Although the world has known Taiwan to be a country with strategic importance in the global high-tech sector, Taiwan is mainly but a hardware manufacturing hub. Given the global slowdown in the hardware market, many are looking into the software and services space to expand to, but traditional Taiwanese companies have found the execution is not so simple.
Understanding the overall market in Taiwan and moving into the space with great urgency can serve overseas startups well, as we can see from the example of SEA Group.
SEA Group started out as Garena, and they entered the Taiwanese market early in 2009 as the publisher of League of Legends. Through their operations in Taiwan, they probably realized Taiwan's potential early on, despite having only 23 million people. When they launched Shopee in 2015, they quickly latched on to Taiwan as a decisive market.
In the last 3 years, Taiwan has become a major revenue source for SEA Group as Garena and Shopee has been doing very well in the market, and they intend to expand further in the long-run.

The digital population is relatively high, at 92.8% of the population (around 21.5 million people), and the GDP per capita of USD 24,971 is roughly similar to Portugal, at least twice of Malaysia, and about 2.5x China's GDP per capita.
So there are still huge areas of growth sitting in Taiwan. The significant spending power of its residents, as well as the shift to the digital landscape makes the digital market extremely attractive to the right company. Knowledge is power, and this is an information asymmetry that SEA Group has discovered since the last decade and have been continuing to profit off even after its IPO in 2017.
As SEA Group emphasizes in its prospectus and reports, Taiwan is deemed to be part of the GSEA (Greater Southeast Asia) region, and the current Taiwanese president under Tsai Ying-wen has enacted the New Southbound Policy that reorients Taiwan's businesses to build a closer relationship with ASEAN countries.
---
E-Commerce
Despite the sluggish overall GDP growth in Taiwan, there are areas where growth can perhaps rival ASEAN economies, growing at least 10%.
Taiwan's population has a relatively long history of e-commerce adoption, owing to the early technological advancement and the relatively internet-savvy consumers. Market Intelligence & Consulting Institute, a local government research institute, estimates that 70% of Taiwan's internet population used e-commerce in 2018, which computes to around 15 million people.
In 2016, sales made over the internet have ballooned to make up 5.4% of the total retail activity, which computes to around USD 7B in total, and growing even further every year. In 2017, retail sales over the internet grew 13.6%, and some subsections such as logistics for internet-based B2B sales grew a crazy 75%.
As a comparison, growth in overall retail (both online and offline) only grew about 1.2%, implying that Taiwan's retail economy is slowly moving over to the digital space. Indeed, we are seeing online e-commerce sites eating a larger portion of the pie every year. Most e-commerce players have enjoyed this trend, with public e-commerce companies such as PCHome and Momo (Fubon Media) enjoying a bumper year in their topline numbers.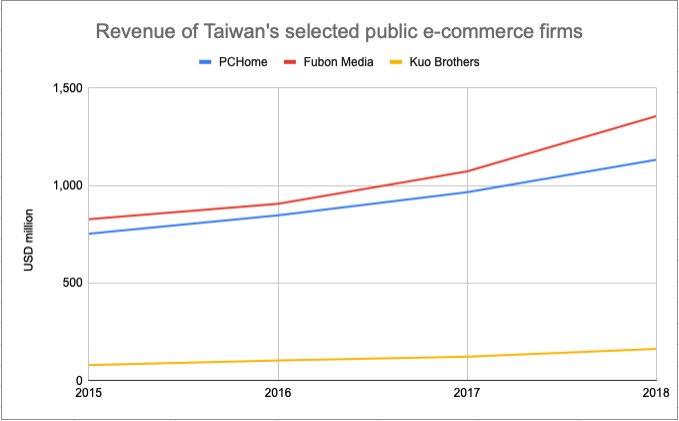 The digitalization of retail activity has also prompted many to enter the market and ride on this wave, including Shopee who set up shop in 2015 and promptly gained a huge market share on the back of its mobile-first strategy and social media-oriented marketing. Although Taiwan's e-commerce scene is quite mature, it has not evolved to keep pace with the mobile evolution in the past few years.
PCHome is still the leader in the overall B2C market, but Shopee and Momo are ahead in the mobile app space, and the growth of orders done through mobile devices are also increasing, and the industry will have to adjust further to the ever-evolving consumer preference.
Adding to the competition in the B2C market, Shopify-style e-commerce platforms have also been blooming in Taiwan. Local player 91APP raised $9M in series A, whose backers include AppWorks and PCHome's chairman. Foreign competition is also present, as Hong Kong's Shopline has made a landing in Taiwan, backed by Alibaba Entrepreneurs Fund.
As a whole, the e-commerce industry in Taiwan is supported by the robust digital infrastructure in place, the government's push for more retail digitalization, the ubiquity of credit/debit cards, the rise of cashless payments (LINE Pay, JKo Pay, Pi Wallet) driven by the government, the developed logistics network, as well as the relative spending power and preference of the internet-savvy population.
There is still a lot of value to unlock in this space, despite the intense competition in the domestic e-commerce space. B2B logistics for e-commerce is an area where the right firm can dominate, and digital financial products grew a significant 31% in 2017, which is an area that will experience more growth, as the supportive regulator has recently issued licenses for virtual banks.
Being a developed country, Taiwan has a solid structure in intellectual property rights, and Taiwan frequently ranks highly in the Ease of Doing Business index. However, expanding into Taiwan will be a tough task nonetheless due to the need for localization as well as the need to navigate through the tangled web of bureaucracy.
We at Cornerstone Ventures can be a suitable local partner for startups who are thinking of Taiwan as a potential market for expansion. We focus on new internet ventures, especially in the AI and data space. We are backed by both Chunghwa Telecom and PCHome, and we can also rope in other resources both from the government as well as the private sector. If you are truly interested in building a business together in Taiwan and you believe there is space for us to partner up, please do contact us through contact@cornerstonevc.tw and send us relevant information, we look forward to knowing you.